Fishing from the rocks at Porth Ferin c.1967. Who was the fisherman in the distance?
I came across an old black and white photo of me the other day, aged about six or seven, fishing with my brother from the rocks at Porth Ferin on the Llŷn peninsula.

Dressed, rather comically in black oil-skins, complete with sou'wester hats, We're holding the wooden frames of hand-lines and next to us sits a bucket to hold the crabs that we've caught.

Over my shoulder you can clearly see a small white open fishing boat, some distance offshore, with the silhouette of a figure standing erect at the tiller.
As I pondered on when the photo was taken (probably 1967),
it occurred to me that the distant figure was one of the last of a breed of subsistence fishermen who were still working out of the small coves of north Llŷn at that time.

These secluded inlets have provided shelter for small-scale fishing boats since time immemorial.

Over two centuries ago, Edmund Hyde Hall noted that, "The shore…is notched into several small creeks…in all of which ply the vessels engaged in the herring fishery, in pursuit of which they are said to frequently stretch over as far as the Irish coast".
This provoked an interest in me to find out who the mysterious figure in the photo was, and where he lived.

The answer to both these questions came from a colleague.

Paul Lewis, one of the National Trust's local Rangers told me that the figure was almost certainly "Owie Cae-Hic".

In a land of few surnames, many people are universally known by the name of their home or birthplace, and Cae Hic – a simple crogloft cottage – sands on the deep lane that leads down to the isolated rocky cove of Porth Ferin.

Owie spent most of his time down at Y Borth, as he would have called it, repairing his boat, lobster pots and winch engine.
The land around the cove is too steep to take a vehicular track, so his boat had to be winched out of reach of the waves onto the grassy bank with a thumping stationary engine and an ingenious system of pulleys.

I found a photo of Owie taken in 1985 for a project to record the traditional fishermen of Llyn. Looking every bit the archetypal Llŷn smallholder of his time, with a weatherworn face, flat cap, jacket and buttoned-up shirt, he's proudly holding a huge lobster, the like of which is rarely seen nowadays.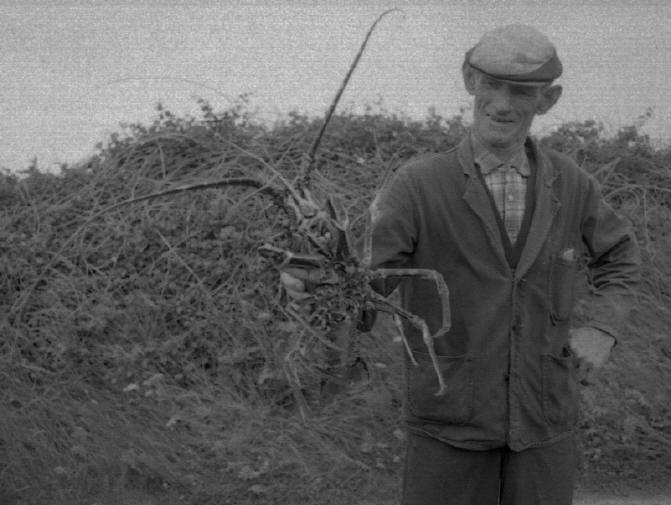 Owie Cae Hic. Photo from www.cimwch.com
So when a recent spell of warm weather inspired me to walk this stretch of coast, I visited several of these little coves, including Porth Ferin.

They remain as beautiful as they ever did but it was sad to see that all but a couple are now deserted, long-since abandoned as the 'economies of scale' and modern lifestyle needs made the modest self-sufficient life of the cottage fisherman untenable.

But the ghosts of Owie and his compatriots still haunt these shores.

You approach the coves along the impressions of their cart tracks and their winches, now still and seized with rust, stand as their silent memorials.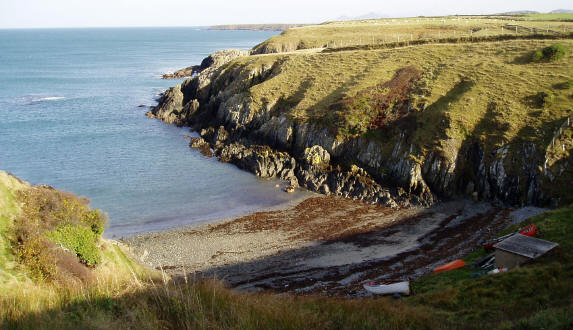 Porth Ferin. Photo from www.cimwch.com
Thankfully, some of their clinker-built timber boats have survived and are lovingly maintained – and sailed – by their descendants in the Aberdaron area.

Two of these boats, which were built locally to a unique design, are in the care of the National Trust and await funds for restoration.

We also have worked with the community and local authority to set up the Blas y Môr local seafood festival, which goes from strength to strength.

Although the likes of Owie will no longer be seen in the background of our sea-views, their spirit lives on.