The coastline of Wales is under attack.
But before you grab your loved-ones and head for the hills, I should tell you that this is an ecological invasion, not a military one.
I've
been reading about the alarming army of exotic animals, plants and pathogens that are getting a foothold on our coasts and countryside, and how many of them are threatening to destroy the precious balance of nature.
Hidden under the surface of our coastal waters, it seems, are alien invaders including killer shrimps, wakame kelp, and rapa whelks, poised to elbow our native wildlife into oblivion.
The situation on land, I read, is not much better.

As well as the bully-boy weeds that countryside folk like me are already familiar with, such as Rhododendron and Japanese knotweed, there are more insidious agents at large such as sudden oak disease and – much in the news recently – ash die-back.
Killer Shrimp, Dikerogammarus villosus has been discovered in Cardiff Bay
This reminded me of the early years of my career when I had the sad task of cutting up dozens of once-stately elms on the Plas yn Rhiw estate.

I witnessed the loss through Dutch elm disease of a whole generation of venerable trees, which formed the backbone of an entire landscape.
Will these more recent arrivals do the same?

I decided it was time to find out more.
I called my colleague Steve Whitehead, Head Gardener at the delightfully secluded Colby Woodland Garden on the western edge of Carmarthen Bay, near Tenby.
I almost wished I hadn't.
"Two of the most beautiful components of the garden landscape have been severely hit. I've had to destroy 60 yr old Magnolias and fell two groves of sweet chestnuts which were all over 100 yrs old"
Steve went on to explain that this had to be done following the discovery of sudden oak disease, Phytopthera ramorum.

This malevolent uninvited guest had probably arrived in a plant pot, as a sort of botanical Trojan horse, and was spreading through the garden's famous Rhododendrons with its sights set on the sweet chestnuts and many other long established native trees.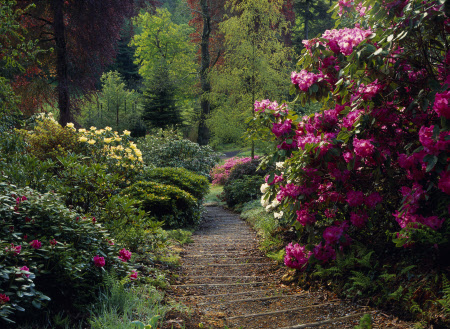 Trouble in paradise. Colby Woodland Garden is one of south Pembrokeshire's hidden gems


(c) National Trust Images / Andrew Butler
To my relief, Steve went on to explain that having completed this cruel-to-be-kind treatment, the garden was already recovering and he was optimistic about the future.

The experience has earned him a place as the Trust's lead officer on ash dieback in Wales, advising his colleagues on the current status of this disease and the precautionary measures needed to try to stop it in its tracks.
But it seems that no sooner you've tackled one problem, another is on its way.
"There are 14 pests and diseases that are a major threat to trees already at large in the UK, and another 4 waiting in the wings." Steve added.
It seems that the boom in inter-continental container shipping is playing havoc with our ecology.

Marine plants, animals and diseases are being spread in ship ballast water to cause untold damage to marine ecosystems world wide and – like a larger version of the plant pot that bought Phytopthera to Colby – terrestrial invasive species lurk in the containers themselves ready to be let loose in environments where there are no predators to control them.
Today's container ships carry loads equal to seventeen pre-WWII freighter ships.
But there's a silver lining to this dark cloud.

Both the World Trade Organisation, that upholder of global free trade, and the European Union, are waking up to the real need for stricter controls to protect the environment; and UK governments are responding to widespread alarm about the ease that ash dieback has entered the country on imported nursery trees.
A big lesson is in the process of being learnt.

The benefits of our plentiful lifestyles come at a cost.

Without more effective controls on the ways we move stuff around the world, it's a cost that will be paid by the priceless wildlife and woodlands of the Welsh coast.
Thanks to Welsh Coast Magazine for this article. Subscribe to read my monthly column.